We were so excited to hear that we made it through to the voting round of the
We have looked at the other nominees and can't believe we are with them. We are really proud of ourselves for sharing our learning on our blog.
We would really like people to vote for us.
Our Blog name is Room 14 HES.
The best bit is you can vote once everyday up until December 13th 2011.
It would be great if you can vote at home and also tell your family and friends.
There are lots of great blogs in different categories too. Get voting!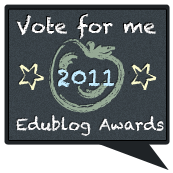 Today I played a trick on Room 14 and told them that the flip camera kept doing silly things and so I would need to film for a little while.....
Then I showed Room 14 the Edublog Award Shortlisted Nominations to see if the blogs we had nominated had got through.
Take a look at our vimeo to see what happened -